Aloe vera - a drink for health and ecosystems
Location: Kalpitiya, Sri Lanka. 1st Mar 2012
MFF Sri Lanka revitalizes local health and business with the Aloe vera Herbal Drink, a venture tracing its origins from the Phase 1 SGF project Aloe vera planting project.
(See MFF Small Grants Snapshots for more information)
The earlier project linked Aloe vera growers to a local cosmetic company, and is now turning surplus produce into beverages. The venture is funded by the MFF Sri Lanka Small Grants Facility, and is managed by the local NGO, the Marine and Coastal Resources Conservation Foundation. Aloe juice is sold at different parts of Kalpitiya, in North Western Sri Lanka. There is a high demand for the drink, as 20 litres of daily production is sold within two hours. MN Nusry, the project officer, says that it is so successful that they plan to expand sales beyond Kalpitiya. View photos of the Aloe Vera juice cart here.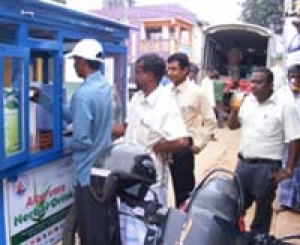 Aloe vera cart, Sri Lanka © MCRCF, 2012