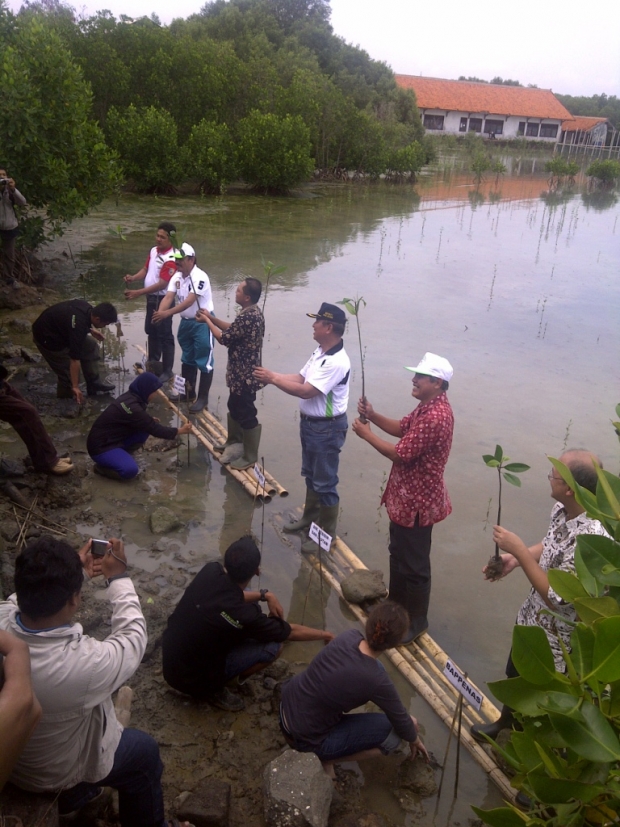 Replanting of Mangrove in LGF Activity , Sayung Sub-Distric, Demak, Central Java, Indonesia © LGF Indonesia 2012, 2012
Coastal areas in MFF countries are naturally exposed to extreme weather hazards such as cyclones, storm surges, salt water intrusion, and tsunamis. These natural events often result in human tragedy and damage to property. In addition to episodic disasters, coastal zones and communities face long term impacts due to erosion, sea level rise and pollution. Coastal communities need to be able to adapt to changing environmental conditions if they are to avert impending calamities.  
The mega disaster of the 2004 tsunami was a wakeup call to reassess the disaster preparedness and resilience of communities. It established the importance of coastal ecosystems and mangrove areas as natural barriers against destructive forces of nature. Further, the relief efforts that followed helped reveal underlying disparities related to human rights, gender, ethnicity, age and social strata.
MFF believes that a resilient community is one which is well informed and able to utilize available resources to prevail against disasters. It emphasizes on the need to develop strategies that help curb damage to ecosystems while enabling mangrove dependent communities to be prepared for future disasters. 
In India, for example, MFF supported a comprehensive survey and mapping of land-use patterns and shelterbelts in 5 coastal states vulnerable to weather events. The knowledge database developed from the project is proving invaluable to state and government planners in strengthening green coastal defences.
---
For details about Actions, Outputs and Results, click [ + ]
Programmes of Work
Actions/Outputs
Contribution to results
9. Improving community resilience to natural disasters





Further application of vulnerability assessment and mapping in coastal areas, including integrating livelihood and ecosystem information into exiting databases and associated disaster preparedness and response strategies.


Continuation and incorporation of additional countries into the coastal community resilience component of the USAID IOTWS, including replicating activities in other villages, and extending methodologies for assessing community vulnerability, with particular attention to the most vulnerable groups including women and children.


Support for activities to strengthen coastal shelter belts and green belts where they are clearly needed and have been proved to make a demonstrable contribution to the protection of coastal communities and settlements, using environmentally-sound techniques.

More integrated development and conservation actions which serve to reduce vulnerability and increase resilience among coastal communities


Improved participation in, support for, and benefit from, ecosystem conservation among coastal dwellers, especially women