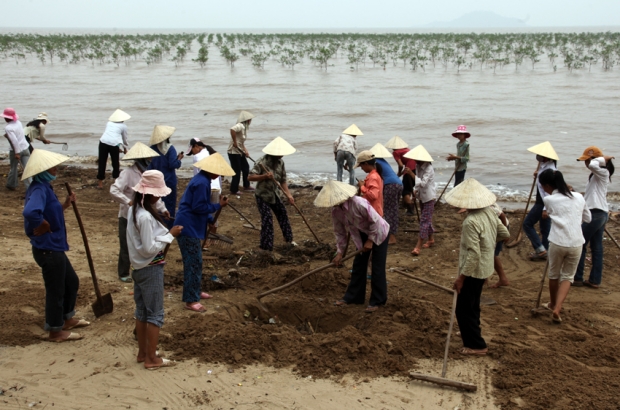 Da Loc commune village Green Teams clean the beach near a ma ... , Thanh Hoa Province, Viet Nam © Søren Rud
Civil society engagement and citizen participation can be powerful agents in making better decisions on coastal ecosystem management. The post tsunami scenario witnessed a sharp upswing in public interest and awareness on the important roles coastal ecosystems play in protecting shorelines and communities. MFF believes that the current period is crucial in terms of giving continuity and further impetus to civic involvement in decision making processes related to coastal development.
Today, civil society organizations are taking active roles in shaping global policies. Vis-à-vis their growing influence, it is important that their participation be integrated into governance structures of integrated coastal management systems. The inclusion of women, indigenous people, marginalized and disadvantaged groups are significant aspects of civil society participation.
This MFF 'Programme of Work' aims to link actions on the ground with improved awareness among civil society at large. In Mahe island- Seychelles for example, MFF worked with Marine Conservation Society Seychelles (MCSS), local communities, businesses and government to enhance public awareness on turtle friendly practices which resulted in increased rates of successful turtle nesting.
In Thailand's Chalong bay, a rapidly growing sub district in Phuket, MFF helped improve capacity of marginalized communities to develop secure livelihoods through environmentally friendly tourism activities and alternative occupations related to ecotourism.
For details about Actions, Outputs and Results, click [ + ]
Programmes of Work
Actions/Outputs
Contribution to results
6. Promoting civil society awareness and participation in coastal decision-making

Targeted awareness programmes on the role and importance of coastal ecosystems for development and livelihoods, for stakeholders such as women, school children, resource users, protected area buffer communities, urban dwellers, local government administration and national development decision-makers.


Translation of key documents and information materials into local language, and adaption to local conditions and circumstances.


Development of primary and secondary school curricula on coastal ecosystem topics.


Support to multi-stakeholder forums for coastal zone management, at the local level and within the context of national ICM programmes.


Work with the mass media to build the capacity of journalists and writers to report on ecosystem concerns in radio, TV and newspapers, with a special focus on local language presentation.


Support for women's fora to discuss and elaborate ideas and tools for the restoration work.

More effective policy, legal and institutional mechanisms for inter-sectoral coordination in environmental aspects of coastal management


Strengthened alliances and procedures to improve environmental law enforcement and compliance


More aware, engaged and empowered civil society supporting coastal ecosystem conservation


Improved participation in, support for, and benefit from, ecosystem conservation among coastal dwellers, especially women