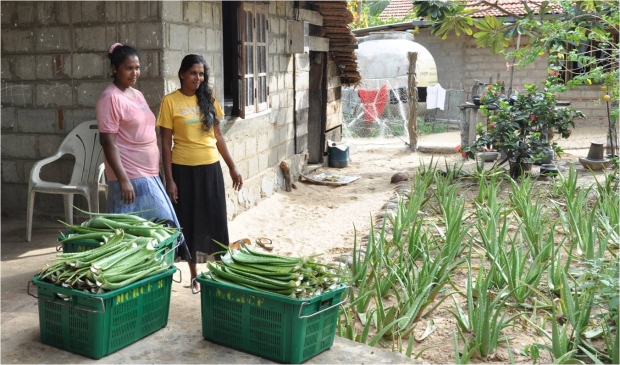 Aloe vera plantation managers , Sri Lanka © S. Christensen, 2011
The livelihoods of coastal communities are heavily dependent on resources and services provided by coastal ecosystems. From basic necessities including food, water and shelter to intrinsic services like tourism and recreation, coastal ecosystems cater to a multitude of human needs. The quality of these services and ecosystem health are in turn dependent on their judicious utilization by communities. Local people are not just recipients of these services but also exert direct influence on the nature and providing capacity of ecosystems.
The intricate links between local livelihoods and ecosystem health are now widely recognized. With coastal communities constantly evolving and diversification of their needs and occupations, there is a greater urgency to equate socio-economic and livelihood concerns with ecosystem health. It is now imperative that insightful parallels be drawn between decline in ecosystem health and livelihood activities.
MFF focuses on promoting livelihood activities that are environmentally sound, economically realistic and sustainable. Together with partners it seeks to address the challenges faced by coastal ecosystems and communities in the MFF countries. Through this programme of work MFF aims to develop models to guide livelihood restoration in post disaster situations, encourage replicable community led ecotourism activities, restore fisheries in tsunami affected areas and help market non-fish mangrove products.
---
For details about Actions, Outputs and Results, click [ + ]
Programmes of Work
Actions/Outputs
Contribution to results
8. Supporting environmentally sustainable livelihoods among coastal communities



Development of models to guide livelihood restoration in post-disaster situations, and methodologies to promote and action-learning approach to ensure that livelihood restoration activities are adapted to specific local needs and ecosystem conditions.


Development of replication of small community-led ecotourism activities related to mangroves and other coastal ecosystems, and improve access to markets.


Support the restoration of fisheries and aquaculture in tsunami-affected areas, and ensure that these efforts are environmentally sustainable.


Development of efforts to add value to local use and marketing of non-fish mangrove products, linked to community-based management and conservation approaches.


Identification and information sharing on alternative livelihoods which can address key threats to coastal ecosystems which arise from unsustainable exploitation or damaging harvesting methods, while meeting the long-term needs and changing socio-economic aspirations of coastal communities.

More environmentally sustainable coastal livelihoods


More integrated development and conservation actions which serve to reduce vulnerability and increase resilience among coastal communities


Improved participation in, support for, and benefit from, ecosystem conservation among coastal dwellers, especially women