MFF (India) SGF: Call for Concepts
Location: New Delhi, India. 6th Jan 2016 to 8th Feb 2016
MFF is a partnership-led regional initiative chaired by IUCN and UNDP to promote investment in coastal ecosystem conservation for sustainable development. MFF focuses on the role of healthy, well-managed coastal ecosystems as a contribution to building human resilience in ecosystem dependent coastal communities in Bangladesh, Cambodia, India, Indonesia, Maldives, Myanmar, Pakistan, Seychelles, Sri Lanka, Thailand and Viet Nam. The initiative uses mangroves as a flagship ecosystem, but MFF is inclusive of all coastal ecosystems, including coral reefs, estuaries, lagoons, sandy beaches, sea grasses and wetlands. The National Coordinating Body of India, chaired by the Ministry of Environment, Forests, and Climate Change (MoEF&CC) provides overall guidance and technical oversight to MFF in India.
Rajnagar block in Odisha, has been identified as amongst the most vulnerable blocks in India to climate-induced natural disasters. The socio-ecological system of Rajnagar is complex as a result of the mosaic of different natural and vulnerable coastal ecosystems, existing management and conservation regimes, and varied human dependency on natural resources. In this context, MFF announces the call for project concept notes with focus on resilience building of coastal communities through ecosystem-based approaches.
Eligible applicants, Grant amount and Duration: MFF India invites NGOs, CBOs, academic and research institutes, small-scale businesses, management boards and enterprises to submit project concept notes for its Small Grant Facility. The maximum grant amount is INR 1,200,000, with a project duration of up to 12 months.
Geographic and Thematic Focus: The geographic focus of this cycle of grants is the Rajnagar Block in Kendrapara District, Odisha. Projects should focus on one or more of the following priority thematic areas:
Diversifying and building on existing livelihoods with a view to enhancing financial and food security of coastal communities in Rajnagar. This can include, but is not limited to, piloting of eco-tourism initiatives; aquaculture; and value adding livelihoods like mushroom and vegetable cultivation, based on available market linkages.

Increasing capacity, and education of women and youth. This can include, but is not limited to, sensitization and training in eco-tourism as a livelihood option, with adequate focus on knowledge development of Protected Areas; training of farmers in climate-smart agriculture/aquaculture; and establishment of a livelihood school/curriculum for education & training in alternative livelihoods. 

Strengthen participation of local communities and community institutions in management of natural resources

Improving disaster-risk reduction capability of communities and community institutions    
Submissions: must be addressed to Ms. Nisha D'Souza, MFF India Small Grants Officer, by email nisha.d'souza@iucn.org (kindly note the apostrophe in the last name) and/or by post to IUCN India Country Office, C4/25 Safdarjung Development Area (SDA), New Delhi 10016 India. Further information can be obtained from the MFF India Small Grants Officer at +91 11 2652 7742 (Ext. 202).
The deadline for submission is 8 February 2016.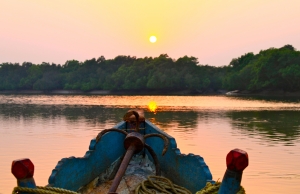 Sunset over Bhitarkanika mangrove forest, Orissa, India © Nisha D'Souza, 2012