We have come a long way together since MFF was first launched as a regional initiative in 2006 primarily as a disaster response and reconstruction effort in the six countries most affected by the tsunami in 2004. MFF has grown and evolved into a regional programme with 10 member countries that is benefiting coastal communities, protecting ecosystems and building resilience in the face of climate change and other major threats.
With the increase in member countries MFF is now coming close to covering the contiguous coastline of south and southeast Asia from Pakistan in the west, to Viet Nam in the east, plus the extensive coastlines of the island states of Indonesia, Maldives, Seychelles and Sri Lanka. Cambodia has been endorsed as a new MFF member country starting in 2014; Indonesia has revitalized its MFF activities with on-the-ground management of the MFF Small Grant Facilities by Wetlands International Indonesia; and we are hoping to welcome Myanmar as a new MFF member country soon.
While a lot has changed since MFF was first conceived, one thing has remained the same: MFF's success in delivering long-term results for coastal communities resides firmly in its partnership-based approach, linking governments, civil society, the private sector and major aid agencies.
This partnership-based approach is unique among regional projects, and has helped us to achieve a lot together. Through the joint efforts of our country teams, we have implemented a total of 187 projects since the programme was launched. Of these, 171 have been small grants focusing primarily on the management of mangrove ecosystems, with emphasis given to livelihood development, community empowerment and education, and conservation of biodiversity.

Over the years MFF has also supported a number of regional projects which demonstrate best practice and policy solutions to coastal conservation issues across the countries. In the Maldives and Viet Nam, the UNEP-managed MFF regional project "Green Fins" builds the capacity of local scuba diving and snorkel operators to mitigate the impacts they are having on reef ecosystems. In Pakistan, another UNEP-MFF regional project is outlining strategies for addressing coastal erosion issues, and in India and Sri Lanka, an IUCN-led MFF regional project "Living resources of Gulf of Mannar" is putting forward recommendations to policy makers on protecting and managing important seagrass habitats.

All these efforts are contributing to a rich repository of information and learning in the field of integrated coastal management. A number of new publications bring this learning together: Sri Lanka has introduced the new "Reef Fishes" technical guide, and the "Small Grants, Large Gains" publication, which collates lessons learned from Phase 2 SGF projects. India's "Coral Reef" book for children is part of the country's strategy for raising awareness of marine resources. Similarly, a case study from the Seychelles, "Mangroves for Mankind", documents the results of a small grant project that restored an urban coastal wetland.
MFF's regional learning events highlight some of the lessons learned and promote exchange that influences coastal management policy and practice. In March this year, MFF hosted a "Regional Symposium on Coastal Resilience" that shared experiences among Bangladesh, India, Indonesia and Viet Nam on ways to build coastal community resilience using ecosystem-based approaches. At the beginning of May we will host a technical panel session at the "Forests Asia Summit" in Jakarta, Indonesia which is focused on managing mangrove forests for climate change mitigation and adaptation benefits. Furthermore, a new MFF corporate video has been produced which provides a visual introduction to the history of the initiative and directions for the future. To view the video, please click here.
There is no question that MFF has contributed significantly to sustainable development of ecosystem-dependant coastal communities in the member countries, but with growing threats from climate change and rapid development of our coastlines, we still have a big task ahead of us. As we move forward, we will continue to develop the resilience approach and framework that has been pioneered and communicated in the last few months, while also fine tuning our ability to deliver long-term positive outcomes that will contribute to a better future for Asia's coastal communities.
Our sincere thanks again for your dedication and your commitment to this common cause. We look forward to continuing to work together, and encourage you to visit our website www.mangrovesforthefuture.org and our Facebook page to find out more.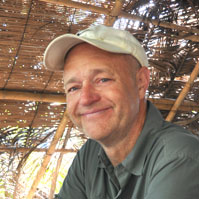 Steen Christensen
Coordinator
Mangroves For The Future