In the last edition of the newsletter, we introduced the MFF resilience approach, which explores the dynamics and interactions between social and ecological systems in coastal areas, as a way to build resilience of coastal communities. MFF's resilience approach is being piloted in Bangladesh, Indonesia and Viet Nam that are all focusing on mangroves and climate change impacts in coastal areas. In this edition, we explore the expansion of the approach beyond these three countries.
Resilience is not a new concept. Over the past decade, resilience theory has evolved as a way to characterize the ability of social and ecological systems to prepare for change and to recover and renew themselves. Whereas the resilience concept is widely used in the disaster risk management context, the MFF approach to resilience goes beyond that and aims at integrating the resilience perspective in all planning and interventions for sustainable development of the ecosystem dependent coastal communities.
Many aspects of the resilience approach are already resident in the work that MFF has been supporting over the years, but the work has now evolved to include a consistent approach and development of an evaluation framework to guide the strategic delivery of MFF grants. Most recently, MFF organized a "Training of Trainers" workshop in Karachi, Pakistan where a case study from Shyamnagar in Bangladesh was used to illustrate how the Resilience Analysis Platform tool can be contextualized and applied to analyse potential MFF project sites in other countries.
In the recently concluded 10th Regional Steering Committee meeting, graciously hosted by the Government of Viet Nam, MFF presented the MFF Resilience Approach more fully to its members. On its endorsement as a new member country, Cambodia announced that building community resilience is one of its top national priorities.
MFF's resilience approach is also being applied to a number of regional and national activities, and integrated into projects that you can read about in this issue of the newsletter – from biodiversity conservation efforts in India, Seychelles and Sri Lanka to a regional project being implemented by Pakistan and Thailand .
The newsletter also reports on two regional learning events organized by MFF and its partners. One is the MFF Regional Mangrove Training Course held in Cha-am, Thailand , and the other is the MFF Regional Fisheries Symposium held in Kerala, India. At the mangrove training course, participants learned about effective community-based methods for planning, implementing, and monitoring mangrove restoration and management activities.The MFF Regional Fisheries Symposium, that was organized in partnership with BOBLME, FAO, UNEP, SEAFDEC and the Government of India resulted in Conclusion and Recommendations for sustainable management of fisheries and coastal habitats that can be used to guide the planning of countries for national and regional interventions.
As 2013 comes to a close, MFF looks forward to a new year of activities and regional partnerships, and to your continued support in building a healthier, more prosperous and secure future for all coastal communities.
Visit our website www.mangrovesforthefuture.org and our Facebook page to find out more, and spread the good word!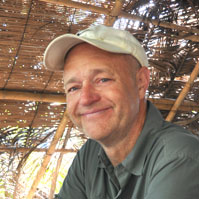 Steen Christensen
Coordinator
Mangroves For The Future